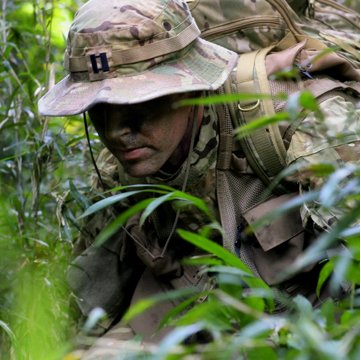 ENLISTED
SURVIVAL, EVASION, RESISTANCE AND ESCAPE (SERE)

ENSURE AIRMEN SURVIVAL
The strength of SERE specialists lies in their ability to prepare others for the critical Personal Recovery mission. They empower others with skills for survival, evasion, resistance, and escape in adverse conditions. They integrate with other Airmen, military peers, government entities, and foreign allies, in effort to bolster recovery initiatives that guarantee every participant is well-prepared to "return with honor".
Prepare aircrew and high-risk-of-isolation personnel to return from any type of survival situation.
Train and operate in remote and austere environments, day or night.
Provide direct support to Personnel Recovery (PR) programs through preparation, planning, execution, and adaptation.
Conduct developmental and operational testing of SERE and Aircrew equipment.
Perform static line, military free fall, and emergency parachuting techniques in support of various operations and exercises.
QUALIFICATIONS SUMMARY
MINIMUM EDUCATION

A High School Senior (age 17 or older)*, High school diploma, a GED, or 15 college semester hours

*High School Students may start their application as early as the end of their junior year.

TEST SCORE REQUIREMENTS

55 General (G) or higher on the ASVAB and a 55 or higher on the TAPAS

QUALIFICATIONS

Be a U.S. citizen and qualify for a "Secret" security clearance.


Be between the ages of 17 and 42.

Obtain an 11th-grade reading level on the Air Force Reading Abilities Test.

Must not have a speech impediment that interferes with clear enunciation.

Meet the minimums of the SERE Initial Fitness Test (IFT).
SURVIVE ANY SITUATION
Swipe to see the training pipeline for SERE specialists.
SKIP SERE Training CAROUSEL
step 01

BASIC MILITARY TRAINING (BMT)

7.5 weeks | Lackland AFB, TX

The first step to becoming an Airman happens in BMT, where trainees learn military structure, the core values of the U.S. Air Force and how to prepare both mentally and physically for life as an Airman.

step 02

SERE SPECIALIST TRAINING ORIENTATION COURSE (SST-0C)

15 days | JBSA-Lackland/Chapman Annex

The SERE Specialist Training Orientation Course is designed to gauge your potential success in the SERE pipeline. You will be evaluated on your physical fitness, leadership/followership abilities, time management, speaking ability and commitment to becoming a SERE specialist.

step 03

SERE SPECIALIST TRAINING APPRENTICE COURSE (SST-AC)

5.5 months, 17 training phases | Fairchild AFB, WA

During this course, you'll train to become a subject matter expert in SERE tactics by training in remote forest, desert, coastal, tropic and open-ocean environments. You'll also train to become a personnel recovery expert, proficient in wilderness responder first aid, rough land evacuation and hand-to-hand combat.
BECOME SERE STRONG
Swipe to see what is required to become a SERE specialist so you can prepare before entering the pipeline.
SKIP SERE Fitness CAROUSEL
01

PULL-UPS (2 MIN) - 8 REPS

02

SIT-UPS (2 MIN) - 48 REPS

03

PUSH-UPS (2 MIN) – 40 REPS

04

RUN 1.5 MILES IN LESS THAN 11:00

05

SWIM – AS A GLOBAL SURVIVAL EXPERT, CONFIDENCE IN THE WATER IS CRITICAL.
TOOLS OF THE TRADE
From the jungle to the arctic, SERE specialists are trained to survive in the most extreme conditions, so their tools must be up for every challenge.