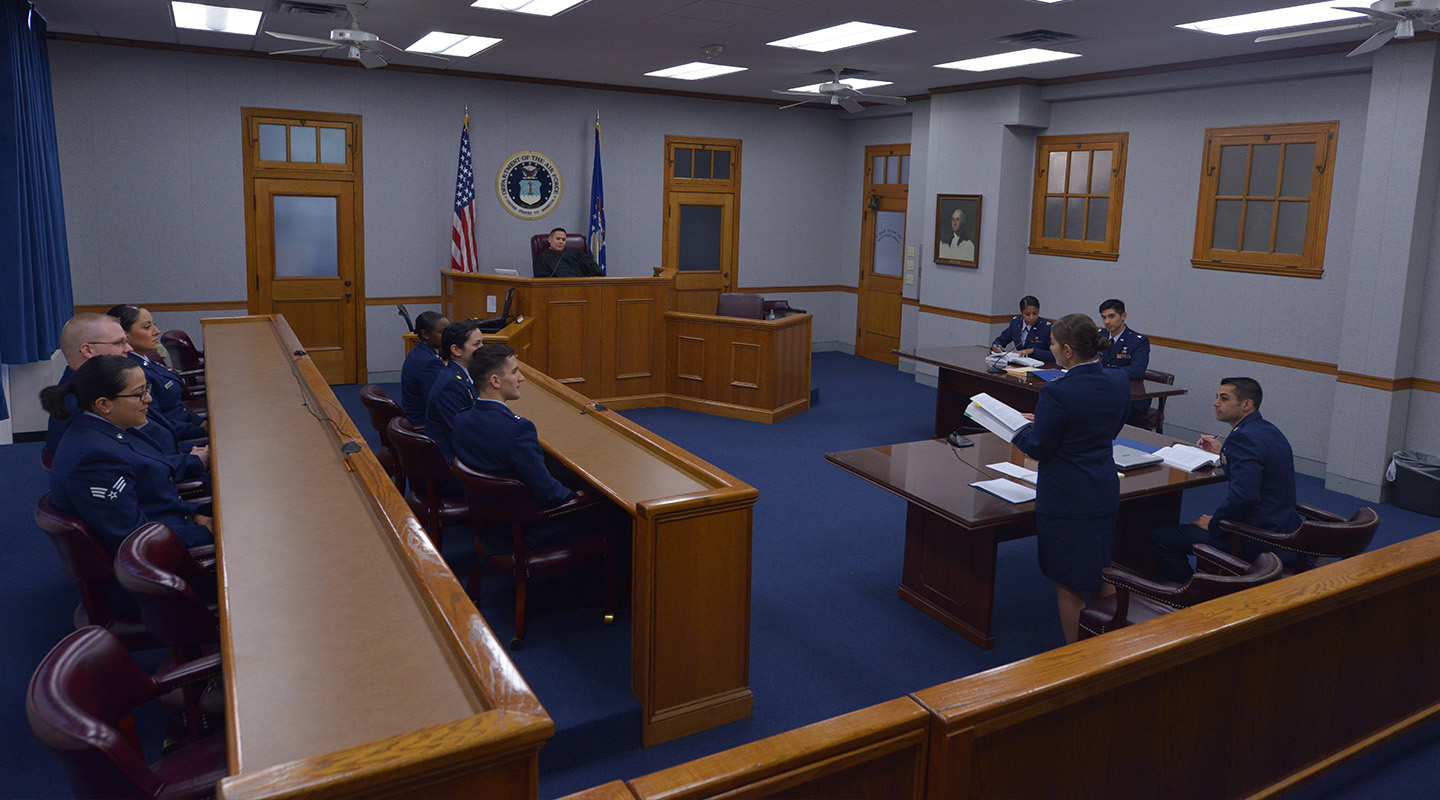 DEFEND YOUR COUNTRY IN THE COURTROOM
JAG TRAINING


Before you become a JAG, you must first learn to become an officer. That takes place during Officer Training School (OTS). OTS is an approximately eight-week training program at Maxwell AFB in Montgomery, Alabama. It is a rigorous program designed to challenge you both mentally and physically, developing you into an officer and a leader. You will participate in physical conditioning (running, push-ups, sit-ups, etc.), classroom studies and training on Air Force customs/courtesies, Air Force history, leadership, marching drills and teamwork.
You will need to be in shape before training begins. To find out more about our weight/height/body fat requirements, view the guidelines here.
After completing OTS, you will be tested twice a year to assure that you meet Air Force fitness standards: https://www.afpc.af.mil/Career-Management/Fitness-Program/

WHERE A JAG BECOMES A JAG
After completing Officer Training School (OTS), you will begin the Judge Advocate Staff Officer Course (JASOC), also at Maxwell AFB in Montgomery, Alabama. This is a nine-week course where you will be trained on Air Force legal practice. The JASOC curriculum focuses on many areas of military law, including military justice, trial advocacy and adverse administrative actions involving military members and civilian employees.
The course also covers a wide range of practice areas critical to daily operations at Air Force installations, including government contracts, environmental law, labor law and legal assistance. Finally, you'll receive training in international and operations law topics, such as the legal aspects of homeland defense, deployed military justice and civil law, the law of armed conflict and rules of engagement.

LEADERSHIP GROWTH IS NEVER COMPLETE
Judge Advocates have two professions. You will be both an Air Force Officer as well as an attorney. We expect our JAGs to continually grow and learn in both fields. You will be required to complete ongoing military education courses throughout your career to improve your leadership, management and professional development skills. These courses can be completed by correspondence, seminar or in-residence. The primary courses are Squadron Officer School (for captains), Air Command and Staff College (for majors) and Air War College (for lieutenant colonels and colonels). These courses are conducted at or through Air University, located at Maxwell AFB, Alabama.