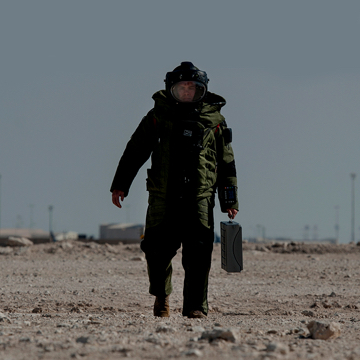 ENLISTED
EXPLOSIVE ORDNANCE DISPOSAL (EOD)

DESTROY DANGER
Trained to detect, disarm and dispose of explosive threats in the most extreme environments, EOD technicians bravely serve as the Air Force's bomb squad. Assigned to some of the most dangerous missions, they perform tactically harrowing and technically demanding tasks in diverse environments worldwide. Some of the best and bravest Airmen, they do what needs to be done to keep others safe and guarantee mission success, no matter the cost.
Handle explosives daily.
Detect, identify, recover, disarm and dispose of unsafe explosives and ordnance
Conduct nuclear weapon response
Analyze unknown munitions and explosives for intelligence agencies
Protect the president, vice president and other dignitaries.
Maintain equipment, technical data and vehicles
QUALIFICATIONS SUMMARY
MINIMUM EDUCATION

High school diploma, GED with 15 college credits, or GED

ASVAB REQUIREMENTS

QUALIFICATIONS

Height must be no less than 62 inches and no more than 80 inches.

Successful completion of the EOD Physical Ability and Stamina Test

Minimum score of 30 on EOD selection model

Normal depth perception

No record of claustrophobia

No record of emotional instability

Physical qualification and maintenance of personal physical standards

Completion of 7.5 weeks of Basic Military Training (BMT)

Ability to receive and maintain a "Top Secret" security clearance

Must be between the ages of 17 and 39.
BUILD NERVES OF STEEL
Swipe to see the training pipeline for EOD.
SKIP EOD Training CAROUSEL
01

BASIC MILITARY TRAINING (BMT)

7.5 weeks | Lackland AFB, TX

The first step to becoming an Airman happens in BMT, where trainees learn military structure, the core values of the U.S. Air Force and how to prepare both mentally and physically for life as an Airman.

LEARN MORE

02

EOD PRELIMINARY COURSE (EOD PRELIM)

Six weeks/Sheppard AFB, TX

To prove they have what it takes, Airmen must undergo intense strength and conditioning training. They'll also receive instruction and assessment on their ability to operate under pressure while conducting explosive operations. 

03

NAVAL SCHOOL, EXPLOSIVE ORDNANCE DISPOSAL (NAVSCOLEOD)

Eight months/Eglin AFB, FL

At this joint service schoolhouse, Airmen will train side by side with Army, Navy and Marine Corps candidates on subjects ranging from explosive tools and techniques to nuclear weapon response operations to build the skills needed to handle the most extreme situations.
DO YOU HAVE WHAT IT TAKES?
Swipe to see what is required to become an EOD technician so you can prepare before entering the pipeline.
SKIP EOD Fitness CAROUSEL
01

PULL-UPS - 3 REPS

02

SIT-UPS (2 MIN) - 48 REPS

03

PUSH-UPS (2 MIN) – 40 REPS

04

RUN 1.5 MILES IN LESS THAN 11:00
Tools of the trade
EOD technicians rely on highly sophisticated tools to complete their inherently dangerous missions.