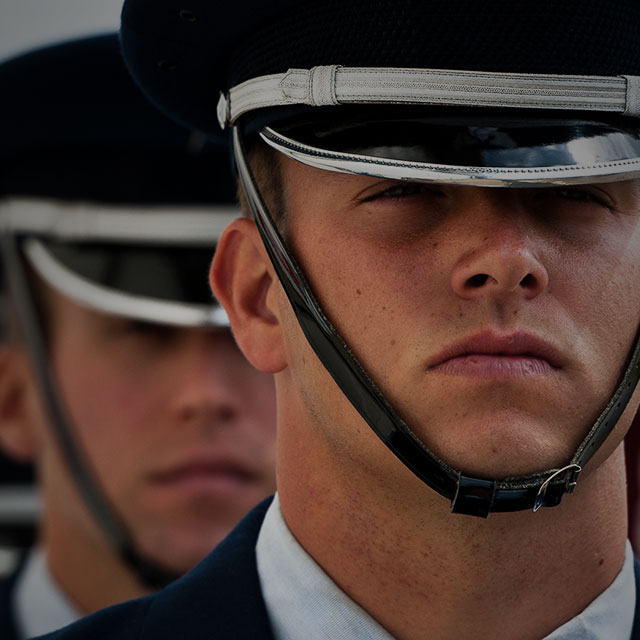 VISION
IT'S OUR PROMISE TO PROTECT

I AM AN AMERICAN AIRMAN.
I AM A WARRIOR.
I HAVE ANSWERED MY NATION'S CALL.
I AM AN AMERICAN AIRMAN.
MY MISSION IS TO FLY, FIGHT, AND WIN.
I AM FAITHFUL TO A PROUD HERITAGE,
A TRADITION OF HONOR,
AND A LEGACY OF VALOR.
I AM AN AMERICAN AIRMAN.
GUARDIAN OF FREEDOM AND JUSTICE,
MY NATION'S SWORD AND SHIELD,
ITS SENTRY AND AVENGER.
I DEFEND MY COUNTRY WITH MY LIFE.
I AM AN AMERICAN AIRMAN.
WINGMAN, LEADER, WARRIOR.
I WILL NEVER LEAVE AN AIRMAN BEHIND,
I WILL NEVER FALTER,
AND I WILL NOT FAIL.
01

AIR AND SPACE SUPERIORITY

We continually build distinctive capabilities that enable joint forces to dominate enemy operations in all dimensions: land, sea, air and space.

02

GLOBAL PRESENCE

We pursue technological advances that allow us to attack anywhere, anytime, more quickly and with greater precision than ever before.

03

RAPID GLOBAL MOBILITY

We maintain and improve our ability to respond quickly and decisively anywhere we're needed around the globe.

04

PRECISION ENGAGEMENT

We hone the application of selective force against specific targets, advancing the reliable use of military power with minimal risk or collateral damage.

05

INFORMATION SUPERIORITY

We advance data capabilities that allow joint force commanders to keep pace with information and incorporate it into a campaign's plans.

06

AGILE COMBAT SUPPORT

We offer expert combat support across deployment and sustainment, including all permanently based and expeditionary forces.