FOR FAMILIES
WHEN YOUR CHILD TRANSFORMS, YOU DO TOO

FIVE FAMILIES, ONE AIR FORCE
THE SUPPORT OF YOUR FAMILY. THE STRENGTH OF OURS.
Every Airman's story is different, but they've all come from families who have been positively impacted by the decision of joining the Air Force. Regardless of the path our Airmen take to get here, once they join the Air Force, they become a part of our global family.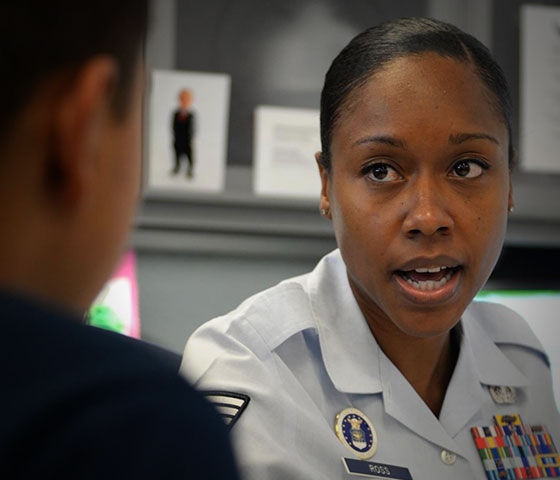 Your child can do amazing things and forge an incredible career in the Air Force, but joining is a big decision and shouldn't be made alone. If your child aspires to join, take the time to learn about what they can expect from life in the Air Force. You may be surprised at the extensive resources and rich experiences that await them as an Airman.
Everything we do is tied back to our main mission: to fly, fight and win – airpower anytime, anywhere. It's an incredible responsibility and can be sobering at times, but our core values work to inspire and unite us as we serve.

The Air Force is committed to excellence in everything we do, including developing the skills and careers of our Airmen. We provide them with unsurpassed educational opportunities so they continue to grow as they serve and are able to reach their highest potential.

Wherever your child's talents or passions may lie, the Air Force has a career that will suit their interests. As part of our commitment to take care of our Airmen, we provide benefits that rival any found in the civilian world.

Airmen enjoy a close-knit community and an excellent quality of life. Your child will be assigned to a base that can best utilize their skill set and offer the greatest career advancing opportunities. Every base is equipped with all the amenities and support they need to supplement their lifestyle and raise their families.
WHAT TO CONSIDER
Learning about the Air Force can help you and your child decide the right path for their future. Addressing questions and concerns with your child, family and friends can help. Take the time to get the answers you need to make a great decision.
Gaining Perspective

An open conversation with your child will give you a better understanding of why they feel the Air Force is the right choice for their future. Discuss their education, job benefits and career growth they can expect by joining the Air Force. You both may be surprised at the opportunities that await them by becoming an Airman.

 

Here are a few questions to get a discussion started:

Q: What made you consider the Air Force?

Q: What do you hope to gain from joining?

Q: Have you thought about your career path in the Air Force?

Q: Where do you see yourself in the future, and how will the Air Force help you get there?

Q: Are you ready for the commitment the Air Force requires?

Q: Why is the Air Force the best choice for you right now?

Addressing Concerns

If you or your child have specific concerns about what to expect when joining the Air Force, it's helpful to make a list of questions to research. Discuss your findings and consider how joining may help your child achieve personal, educational or professional goals.

Connecting for Answers

At some point, you may have questions specific to your child's situation or desire a more informed perspective. Our Air Force Recruiters are an extremely valuable resource for providing expert insight. Don't hesitate to connect with us.
01

DURING MILITARY TRAINING

The five to nine weeks your son or daughter spends in military training—either Basic Military Training or Officer Training School is an extremely focused and challenging time. They will have opportunities to phone home, receive mail from family and friends and write letters of their own. New Airmen often find letters of encouragement from loved ones particularly valuable as they go through training.

02

MILITARY TRAINING GRADUATION

As a family member of an Airman, you are welcome to witness your child's graduation from their respective training, either Lackland AFB in San Antonio, Texas, for enlisted Airmen completing Basic Military Training or Maxwell AFB in Montgomery, Alabama, for Airmen in Officer Training School or Commissioned Officer Training.

For BMT graduation, a background check must be completed for all family and friends attending. It's important that you discuss your intention to attend with your child before they depart for training. Recruits must complete and hand-carry a Visitor Access Request Letter with them to military training.

Visitors are highly encouraged to purchase refundable/transferable tickets in the event they are denied access to the base or the graduation date changes. All guests 18 years old and over must have a photo ID. Guests under the age of 18 may enter the base when escorted by an adult who is granted access. It's not necessary for recruits to request access for anyone with a valid DoD card (e.g., common access card, retired military ID card).

03

AN AIRMAN'S LIFE ON BASE

After military training, your child may enter Technical Training or be assigned to a base that can best utilize his or her skills. Life on base has all of the supports and amenities your child needs to achieve an excellent quality of life. Airmen can even entertain friends at on-base rec. centers and take advantage of on-base guest accommodations that enable family members to visit at a lower cost than what's available off base.

04

STAYING IN TOUCH

It is likely that your Airman's base location will change as often as every three years. Furthermore, every 20 months, there's a possibility your Airman may go on deployment. The length of deployment ranges from 4 to 12 months depending on an Airman's specific job, location and mission requirements. Regardless of where your child is stationed or deployed, there are plenty of communication options available to keep in touch.

The Air Force Friends and Family Instant Messaging (AFIM) service is a great way to stay connected with your son or daughter. Be sure your Airman knows about the program and enrolls you, as you cannot register on your own. AFIM can be accessed through the Air Force Portal.