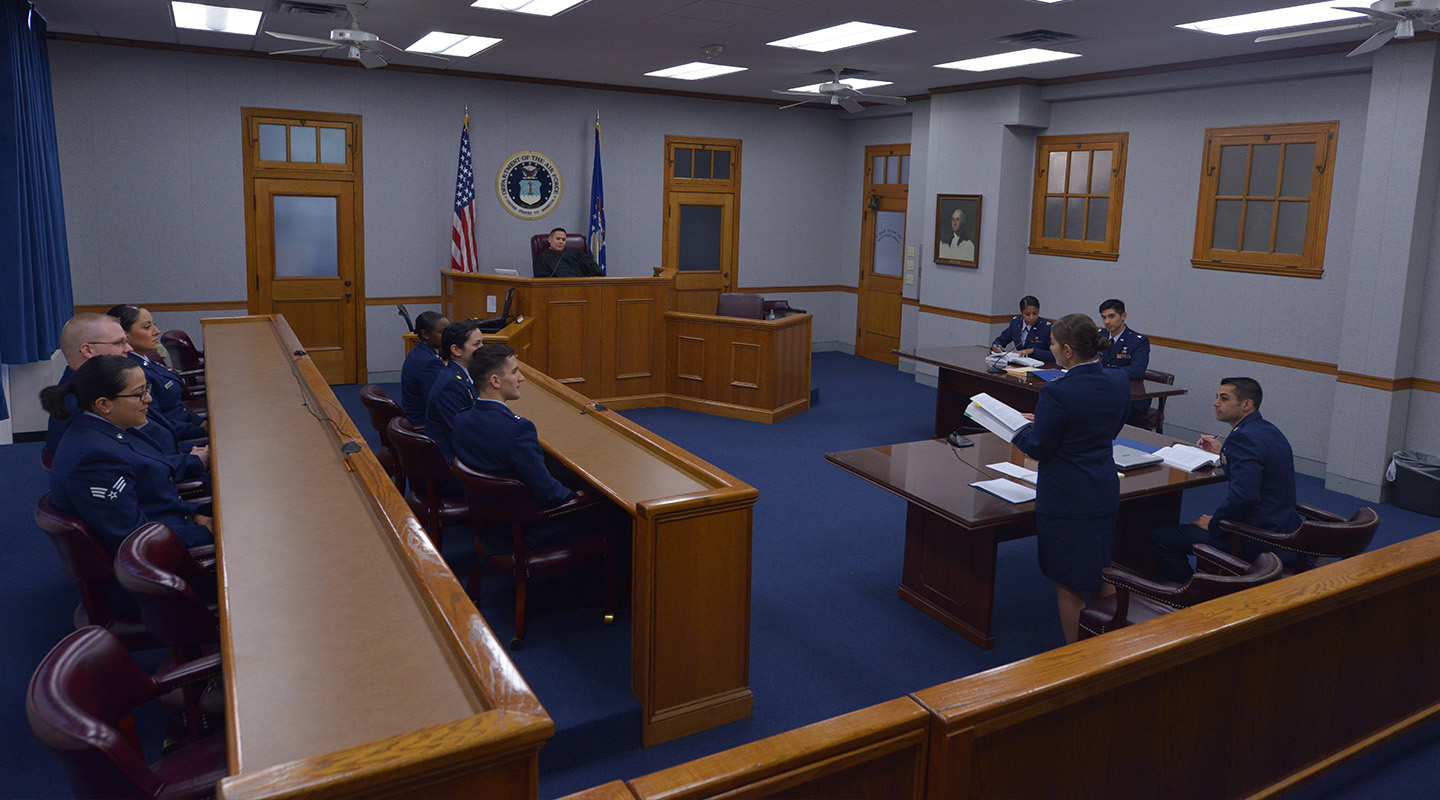 DEFEND YOUR COUNTRY IN THE COURTROOM
JAG ENTRY PROGRAM:
AIR RESERVE
01
PART-TIME JAG POSITIONS FOR EXPERIENCED ATTORNEYS
Keep your civilian job while serving as a JAG part time. In addition to full-time active duty Judge Advocates, the Air Reserve Component, which includes the Air National Guard and the Air Force Reserves, also offers a part-time program for lawyers and paralegals. By design, this program is flexible enough to work with most civilian schedules, so you can serve your country while enhancing your current career.

Service in the Air Reserve Component is not for entry-level attorneys; our program seeks licensed attorneys who are very experienced.

For more information about service in the Air Reserve Component, please email 
AF.JA.ARCJAGRecruiting@us.af.mil.
QUALIFICATIONS
Attorney Qualifications
You are a United States citizen
You graduated from an ABA-accredited law school
You are a member in good standing of a bar of a state or territory of the United States, or D.C.
You do not exceed the applicable age limit. If you have never served as a commissioned officer in the military, you must be commissioned as an officer in the military by your 40th birthday, this process can take up to 8-10 months to accomplish. If you have served as a commissioned officer, slightly different rules apply; contact us for more information.
You meet medical qualification criteria for appointment in the Air Force Reserve or Air National Guard
CONSIDERATIONS
Considerations Before Applying
Successful applicants must be commissioned before their 40th birthday; a smooth, successful application process normally lasts at least 8-10 months before commissioning occurs.
We are unlikely to accept a candidate with a recent criminal record or history of drug abuse. Additional factors bearing on competitiveness may include work history and academic and bar exam performance.
We may have to assign you to a duty location far from your home, especially if you live near a major metropolitan area. As you gain seniority, it becomes more likely that we will assign you to a distant duty location. You may be responsible for some or all of your travel costs in getting to your duty location.
Applicants must be immediately available for training and/or duty upon commissioning.
Service Commitment
You do not incur a service commitment until your accept your JAG assignment. The initial active duty commitment is four (4) years, which begins on the day you depart for Officer Training School (OTS).
Required Training
Officer Training School (8 weeks)
Judge Advocate Staff Officer Course (9 weeks)
Prior Military Service
If you are selected for direct appointment and are prior active duty, National Guard or Reserve, you will be credited by length of service for pay purposes. Prior commissioned service can also advance entry grade and date of rank. All active duty service is credited toward retirement.
HOW TO APPLY
NOTE: This section applies only to those applicants who are NOT separating active duty judge advocates. Separating active duty judge advocates should follow the instructions on the ARC JAG Recruiting Package Checklist at the link below, and email your application to AF.JA.ARCJAGRecruiting@us.af.mil when it is complete. Separating active duty JAG applications are processed monthly, and do not require an SJA interview.
For Air National Guard judge advocate applicants: please work through the Guard unit you are interested in joining to submit your application. Download and follow the ARC JAG Recruiting Package Checklist below and submit your completed application to the unit you are applying to. Do not email it directly to us. The unit will forward your application, and we will schedule your SJA interview according to the board dates below. The unit also needs to provide a memorandum stating they have a position available, and if you will be an overage, an explanation of the unit's manning plan. This memo will need to be signed by the unit Staff Judge Advocate, and endorsed by the State Staff Judge Advocate.

For all other applicants, selection boards are held quarterly. Completed applications may be emailed to AF.JA.ARCJAGRecruiting@us.af.mil. You must submit all application materials on or before the established deadline for a given selection board. Please note that at the moment, the file size limit is 25 MB. If your package is larger than that, you will need to compress it, or break it up into separate PDF files and submit them separately via email. In addition to your online application, you will interview with a Staff Judge Advocate (SJA) at an Air Force base (AFB). After the interview, the SJA will prepare a report that is forwarded to our office. We will contact you if your application is incomplete. We will also contact you to schedule your SJA interview once we receive your complete application.

If you need to add materials to your application after submission, please contact us. We generally respond within 2-3 business days after receipt of your application. If you do not hear from us within that time frame, please contact us at AF.JA.ARCJAGRecruiting@us.af.mil to confirm that we received your application. If you submit your application on the Application Deadline Date, email us for confirmation immediately. Once the deadline passes, we cannot accept applications.
JULY BOARD:
Application Period Opens: May 1, 2024
Application Deadline:     May 31, 2024
Interviews Conducted: June 1 – July 12, 2024
Board Meets: Month of July 2024
Download and complete all required forms and documents listed in the Checklist

Scan your completed application components into a single document and email your application to AF.JA.ARCJAGRecruiting@us.af.mil.
SJA Interview
After emailing your application materials, we will contact you to schedule your SJA interview.
Recommendation Letters
Recommendation letters should be written by someone who can attest to your work ethic, duty performance, leadership potential, etc. Address all letters to "Selection Board Members." Do not mail recommendation letters directly to the selection board. Rather, attach them to your application.