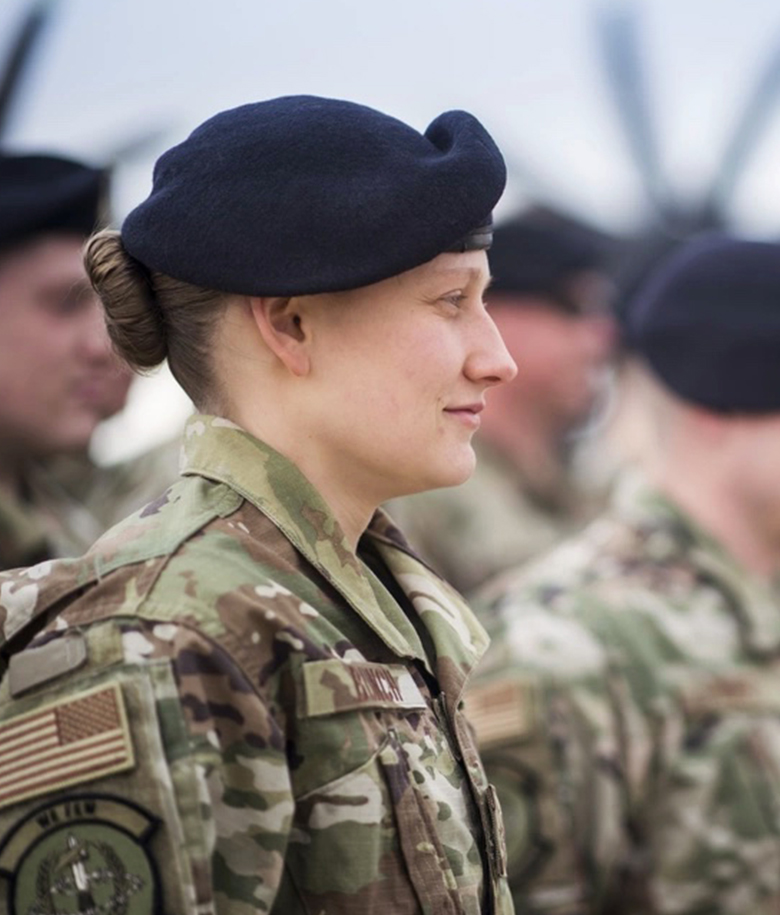 MEET REQUIREMENTS
EXCELLENCE IN ALL WE DO

AGE
Age requirements vary depending on the path you choose to take. Plan the timing of your application to be sure you are age-eligible for service.
To enlist, you cannot be younger than 17 (18 for GED holders) or older than 39 years of age.
To join as an Officer, you cannot be younger than 18 or older than 39 years of age.
To join as a healthcare or ministry professional, you cannot be younger than 18 or older than 48 years of age.
HEIGHT AND WEIGHT
The Air Force maintains strict height and weight requirements throughout your career. See if your height falls within the acceptable range and manage your weight to meet our standards for male and female Airmen. Be sure you are cleared for vigorous exercise by your physician before undertaking any intense physical activity or weight reduction program.
For pilot and aircrew positions, height specifications vary by aircraft and most applicants can successfully pursue a career in aviation with the U.S. Air Force. Applicants who are significantly taller or shorter than average may require special screening to ensure they can safely perform operational duties. Applicants of all heights are encouraged to apply.
SEXUALITY
Air Force applicants are neither asked nor required to reveal their sexual orientation. Furthermore, statements about sexual orientation will not bar anyone access into military service, admission to service academies, ROTC or any other accession program. Openly gay, lesbian or bisexual applicants will be evaluated according to the same criteria and requirements applicable to all others seeking entry into the military.
HEALTH
Air Force careers are often physically and mentally demanding, and Airmen must be in good health to perform to our strict standards. If you have a preexisting health condition and still wish to join the Air Force, your recruiter can help you consider the general guidelines for medical conditions and your eligibility for entrance into the Air Force.
The doctor at the Military Entrance Processing Station (MEPS) can evaluate preexisting conditions and determine eligibility on a case-by-case basis. If you are interested in joining, and are otherwise eligible, you will need to provide all medical documents pertaining to the condition to your recruiter for consideration.
VISION
When enlisting or applying to be an Officer, your vision will be fully evaluated during your pre-entry qualification physical. You may have an eye refraction level of no worse than + or - 8.0. Note that some careers, like pilots, have stricter vision requirements that may influence your career placement.
CITIZENSHIP
If you wish to enlist as a non-citizen in the Air Force, you must be a legal permanent resident with a valid Green Card. The requirements for being an Officer are a little more strict, and you must be a native-born or naturalized United States citizen.
GREEN CARDS
Enlistment into the Air Force by citizens of countries other than the United States is limited to foreign nationals who are legally residing in the United States and possess a valid Permanent Resident Card (USCIS Form I-551), commonly known as a "Green Card". More than two years of eligibility remaining prior to expiration of one's Green Card is required. Applicants must be between 17 and 39; meet the mental, moral and physical standards for enlistment; and must speak, read and write English fluently. All lawful permanent residents must also complete a background investigation and receive a favorable military security suitability determination (MSSD) prior to entry into service.
TROUBLESHOOTING
If you intend to obtain U.S. citizenship, it must be done before applying to join the Air Force. Only after immigration procedures are completed and an applicant is legally residing in the United States may an application for enlistment be accepted. Non-citizens, note that U.S. military branches cannot assist foreign nationals in obtaining admittance into the United States. Questions concerning immigration to the United States should be asked of the U.S. Embassy.
EDUCATION
You can enlist in the Air Force with a high school diploma or a GED. However, GED holders must meet the following additional requirements:
Be at least 18 years of age
Must obtain a 65 qualifying score on the Armed Services Vocational Aptitude Battery (ASVAB)
Obtain 15 or more semester hours of qualifying college credit to gain the same eligibility as a high school graduate
Note that GED holders must wait for GED applicant slots to become available, and this can sometimes mean waiting periods of up to one year. Under normal circumstances, 1% of our enlisted force accessions are GED holders during a one-year period.
To join as an Air Force Officer, at a minimum you must have a four-year college degree or be within 365 days of attaining your bachelor's degree when you apply. If you hope to attend college, or are already in college and are looking for financial assistance, the Air Force can help you do so in exchange for a commitment to serve.
MARRIAGE AND DEPENDENTS
Both officer and enlisted Air Force applicants may be married at the time you join. However, you must plan to be away from your spouse during your period of military training, and in the case of enlisted airmen, during technical training as well. After that, your spouse may live with you on the Air Force base to which you are assigned. If your spouse is also an Airman, assignment to the same base is not guaranteed.
The Air Force recognizes that some individuals may have previously given up custody of a child or children for personal reasons. It is not the intent or desire of the Air Force to require any person to relinquish custody of his/her children to qualify for enlistment.
Married individuals with legal, physical custody of up to two children under the age of 18 and/or incapable of self care may enlist provided you are otherwise qualified. For married individuals with three children, a waiver will be required to permit you to enlist.
Single, divorced or separated parents or those in common law marriages with legal, physical custody of up to three children under the age of 18 and/or incapable of self care may enlist provided you are otherwise qualified, but a waiver will be required to permit you to enlist.
No waivers will be granted to those with four or more dependent children.
Please note that transferring custody of family members for the purpose of entering the Air Force is prohibited and renders enlisted applicants "permanently disqualified."
Single parent applicants must not enter the Air Force with the expressed intention of regaining custody after enlistment. If you indicate you have a child or children in the custody of another parent or guardian at the time of initial processing, you'll be advised and required to execute an Air Education and Training Command Form 1328, Statement of Understanding for Single Member Parent Having Dependents in the Custody of Another.

TATTOOS, BRANDS AND PIERCINGS
Airmen are subject to strict requirements and restrictions pertaining to body modifications. If you plan to get a tattoo or other body modifications, carefully consider placement, size and content before you proceed.
Tattoos, brands or piercings anywhere on the body that are prejudicial to good order and discipline, or of a nature that may bring discredit upon the Air Force, are prohibited both in and out of uniform. This includes modifications that are obscene or advocate sexual, racial, ethnic or religious discrimination. Even if rectified, excessive scarring resulting from tattoo removal may also be disqualifying.
Tattoos are not completely disqualifying, however. There are no size or area limitations for authorized tattoos on the chest (below an open collar), back, arms, and legs. Tattoos, brands, and body markings are prohibited on the head, neck, face, tongue, lips, and scalp. Hand tattoos are limited to one single-band ring tattoo, on one finger, on one hand.
DRUG USE
Drug use and a career as a military professional do not mix. If you aspire to become an Airman, make choices that include sobriety, limit legal drug use and avoid substance abuse.
In most cases, substance abuse is disqualifying. However, pre-service marijuana use without exposure to legal proceedings is in itself not disqualifying. Your specific circumstances may be discussed with your recruiter for an accurate determination to be made about your eligibility.
CRIMINAL RECORD
Law violations have an impact on qualifying for Air Force enlistment. Even an excessive number of traffic-related law violations within a 365-day period could negatively impact your eligibility. If you have concerns about your record, contact your recruiter to discuss your situation.
PERSONAL BELIEFS
A requirement for all Air Force personnel is to be able to bear arms in defense of our country. If you have—or have ever had—a firm, fixed and sincere objection to participation in war in any form, or to the bearing of arms because of religious belief or training, you may not be able to meet the requirement to bear arms.
During the screening process to join the Air Force, you will be asked "Are you now or have you ever been a conscientious objector?" Consider this question before beginning your application and be prepared with an honest answer.
TEST SCORES
ASVAB
When you apply to join the Air Force as an enlisted Airman, you will take the Armed Services Vocational Aptitude Battery (ASVAB) entrance exam.
High school seniors or graduates must achieve a 31 AFQT (overall score) as the minimum qualifying score. GED holders must achieve a 50 AFQT.
AFOQT
The ASVAB is not required to join the Air Force as an Officer, however, most Officer candidates must pass the Air Force Officer Qualifying Test (AFOQT). This test is similar to the SAT with a multiple-choice format and covers topics ranging from verbal and math skills to pilot and navigation aptitude for those interested in flying. Scores are reported as percentiles ranging from 1 to 99.
The Air Force has established minimum AFOQT standards. For specifics on how competitive your particular scores will be in the selection process, contact your recruiter.