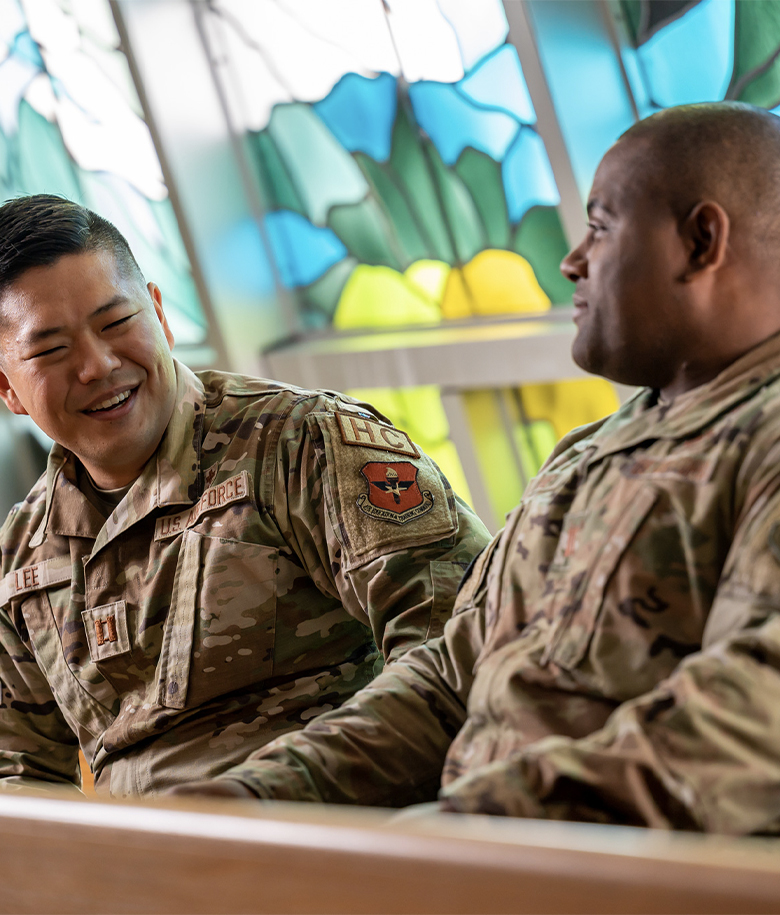 CHAPLAIN OFFICER
LAUNCH YOUR
HIGHER CALLING
Nothing tests religious beliefs more than many situations our Airmen face throughout the course of their service. Providing pastoral care ministry and counseling to those of faith and those of no faith, Air Force chaplains are religious ministry professionals who support the spiritual resilience of our Airmen all over the world. As spiritual leaders, chaplains are relied upon for faith and personal guidance. They are also advocates for our Airmen and consult with leadership on moral, ethical and quality-of-life issues.
Manage and support spiritual centers on military installations around the world
Conduct worship services, liturgies and rites
Advise leadership on spiritual, religious, ethical, moral, morale and quality-of-life issues
Supervise and manage chapel personnel, operations and religious ministry programs
QUALIFICATIONS, EDUCATION AND TRAINING
Required Education

Bachelor's degree from an accredited institution with a minimum of 120 semester hours

Master of Divinity or equivalent theological degree with no less than 72 hours from an accredited institution.

Pastoral Ministry Requirement

Two years of religious ministry leadership experience

Denominations

Christian Protestant

Muslim

Jewish

Orthodox Christian

Roman Catholic

Other faith groups

Qualifications

Must be a U.S. citizen

Receive an Ecclesiastical Endorsement from a DoD-recognized endorser

Meet medical and physical fitness standards

No convictions by courts-martial or by civilian courts (except for minor traffic violations or similar infractions)

No disciplinary action for engaging in an unprofessional or inappropriate relationship

No record of disciplinary action for financial irresponsibility, domestic violence or child abuse

Be commissioned by 40 years of age, age waivers may be available

Personnel Status

Officer*

*When you join the chaplain corps, you will be commissioned as an officer. Your rank will be based on education level and experience.
SERVE YOUR COUNTRY AND YOUR FAITH
When you join the Air Force as a chaplain, you will be called upon to enhance the spiritual resiliency of today's Airmen. A diverse chaplain corps is crucial to support the needs of the many because chaplains are responsible for religious observances in a culturally, racially and religiously diverse environment.
PHASE 01
An Ecclesiastical Endorsement (DoD Form 2088)
An initial screening from an Air Force Recruiting Service Chaplain Recruiter
A religious leadership experience skills set résumé
PHASE 02
Official academic transcripts from your educational institutions
PHASE 03
A Department of Defense physical at the nearest Military Entrance Processing Station (MEPS)
Submission of a security clearance and credit check screening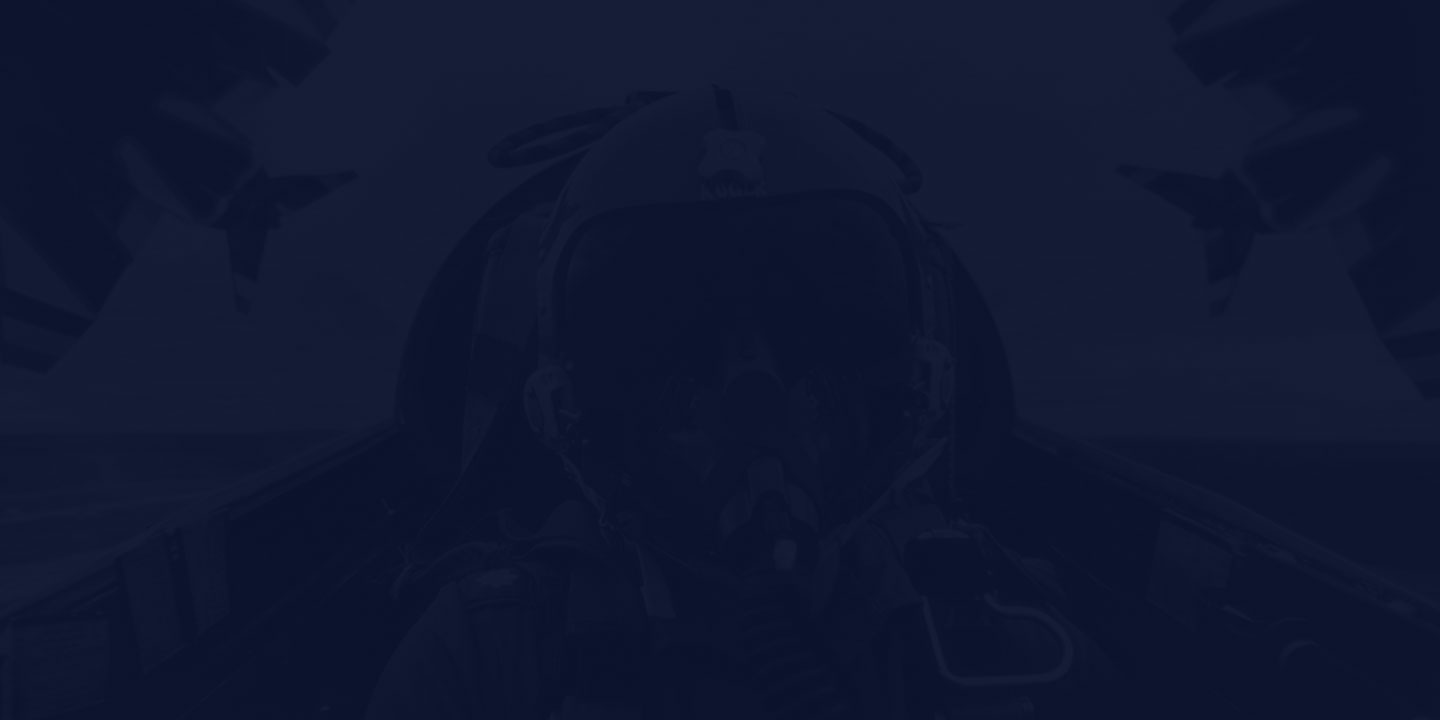 TRAINING & EDUCATION
How do we transform you from the civilian sector to a leader and an Officer in the Air Force? From education to continued training, your Air Force path is here.
OFFICER TRAINING SCHOOL

9 weeks
MILITARY TRAINING LOCATION

Maxwell AFB AL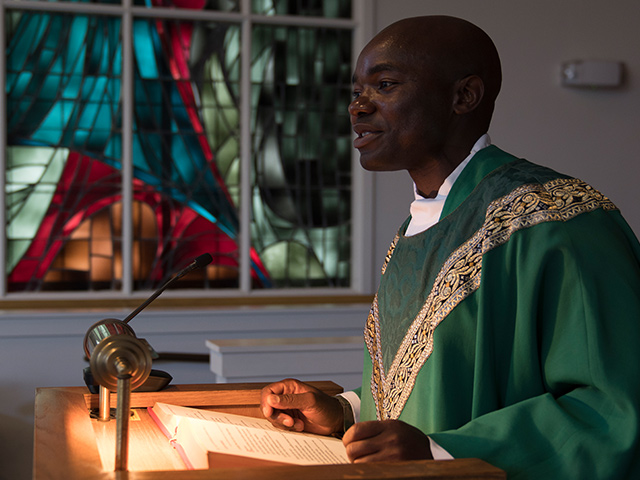 FOR CHAPLAINS, OVERSEAS DEPLOYMENT IS WHERE CHAPLAINS APPLY EVERYTHING THEY'VE LEARNED AS MINISTERS AND AS AIRMEN FOR HIGH-STRESS SITUATIONS.
As defenders of the First Amendment's right to the free exercise of religion in the Air Force community, the chaplain corps traces its roots to the very beginning of our nation.

On July 29, 1775, the Continental Congress established the military chaplaincy. General George Washington issued this order at Valley Forge on May 2, 1778: "The Commander in Chief directs that divine services be performed every Sunday at 11 o'clock on each bridge which has chaplains, while we are duly performing the duty of good soldiers, we are not to be inattentive to the highest duties of religion." Worship for the military members was voluntary, and chaplains of all faiths cooperated with each other, always being sympathetic to the beliefs of others.

On September 18, 1947, the National Security Act made the USAF a separate branch of the military. Subsequently, the USAF Chaplain Corps transitioned from the Army Air Corps under the leadership of Chaplain Charles Carpenter, the first Air Force Chief of Chaplains, in 1949.