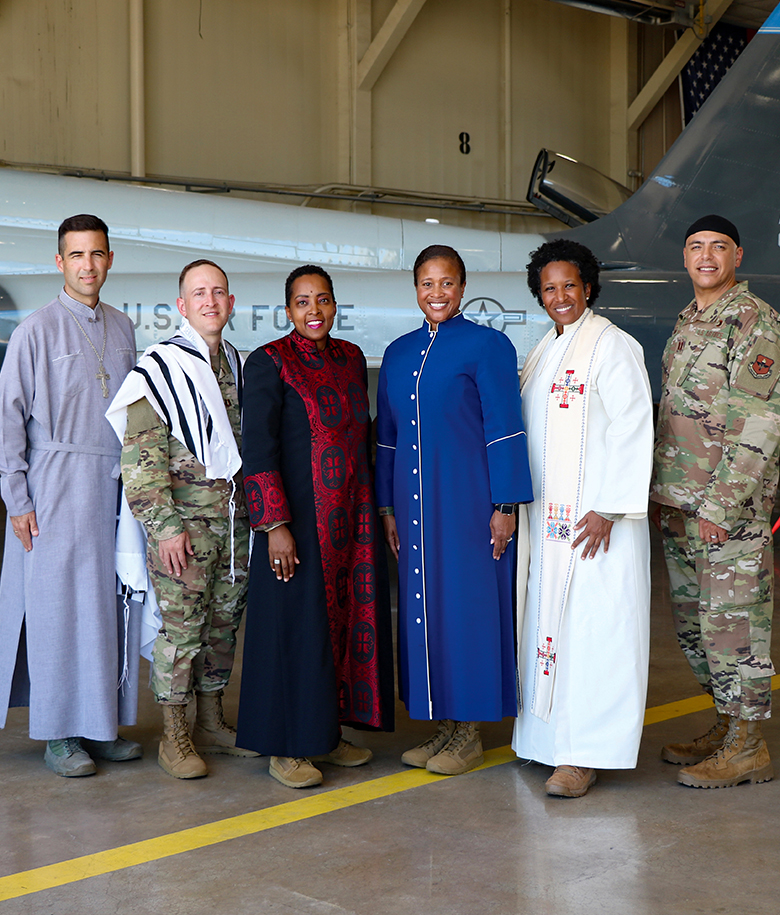 CHAPLAIN OFFICER
PROVIDING SPIRITUAL CARE

MINISTRY PROFESSIONALS
FREQUENTLY ASKED QUESTIONS
What academic requirements must I meet to become a chaplain?

You must have a baccalaureate degree with no less than 120 semester hours from an accredited institution and a post-baccalaureate degree in the field of theology or related studies from a qualifying graduate degree program with no less than 72 semester hours (or 108 quarter hours) from an accredited institution.

Do chaplains deploy to areas of conflict?

Yes. Chaplains are noncombatants who deploy all over the world, taking care of Airmen and ensuring their First Amendment right to worship.

How does getting an ecclesiastical endorsement work?

The Department of Defense requires ecclesiastical endorsement for clergypersons who serve as chaplains in the armed forces. If you are interested in becoming an Air Force chaplain, contact your religious body or denomination to learn about their endorsement requirements.

Will I go through boot camp?

No. However you will be required to complete Commissioned Officer Training (COT). COT is a five-week program that provides initial officership training to Air Force judge advocates, chaplains, health professionals (doctors, nurses, dentists, biomedical science corps officers, and hospital administrators), and medical scholarship recipients. COT conducts training for Air Force active duty, Guard, and Reserve officers. There are six COT classes per fiscal year.. You will begin with a training regimen designed to educate you in the ways of the military. This is an important time during which you will develop into an officer and an Air Force leader. You will participate in physical conditioning five days a week, military training, leadership seminars, and classroom studies.

Do chaplains get any kind of leave for annual retreats or to meet with endorsers?

Chaplains may be authorized to take up to 15 days each year to attend a spiritual retreat, ecclesiastical conference or to consult with ecclesiastical superiors

Is there a pastoral ministry requirement?

Yes. You must have two years of religious leadership experience.

Can my family and I live on base?

In many cases, you will have opportunities to live on or off base.

Can I choose between active duty and joining the Reserve or Air National Guard?

You will need to determine whether full- or part-time military ministry is best for you. To find out more about the Air Force Reserve Chaplaincy, visit the Air Force Reserve chaplain website.

Do I have to be a U.S. citizen to be a chaplain in the Air Force?

Yes. You must be a U.S. citizen. Dual citizenship is not authorized.

Does the Air Force accept ministry professionals of all faiths?

The Air Force accepts endorsed and qualified applicants from faith groups that include Roman Catholic, Protestant, Orthodox Christian, Jewish and Muslim clergy. To qualify, you must have an ecclesiastical endorsement from your Department of Defense–listed endorsing agent.

What is life like as an Air Force chaplain?

The Air Force offers excellent quality of life. Our bases offer the most modern and comprehensive recreation facilities, grocery and department stores, libraries, childcare centers and housing. Our medical facilities are state of the art, and our chapel facilities are pretty special too. Plus, Airmen aren't your typical coworkers—they are more like family.

Do you have a chaplain candidate program?

Yes. The Air Force Reserve Chaplain Corps oversees the Chaplain Candidacy Program, which offers seminary and other professional religious school students the opportunity to evaluate their compatibility and potential for commissioning as an Air Force chaplain. Learn more about the Chaplain Candidacy Program.

What type of benefits does the Air Force offer?

The Air Force offers competitive pay augmented by a full package of benefits that offer excellent quality of life. Benefits include:

30 days of vacation with pay every year
Comprehensive medical and dental for you, and if married, your immediate family
Thrift Savings Plan [similar to a 401(k)]
Tax-free food, clothing and housing allowances
Discounted shopping at base department and grocery stores
Low-cost life insurance
Noncontributory retirement after 20 years of qualifying service

What type of assignment can I expect?

Airmen live and work around the world. Chaplains serve right alongside them, leading worship services and observances, providing pastoral care and advising leadership.

Is there an age requirement to become a Ministry Professional?

You must enter active duty before turning 42.

Will I need to minister to or preside over worship services for Airmen and families in faith groups other than my own?

As members of a diverse community, chaplains primarily provide ministry to persons of their own faith group. They also, however, act as guardians of the free exercise of religion for all Airmen and their families. In other words, chaplains directly provide religious ministries to those of like faith and indirectly provide for the needs of others from differing faith traditions. Furthermore, chaplains are expected to maintain faithfulness to their ecclesiastical body by serving in a manner consistent with their denominational faith and practice.