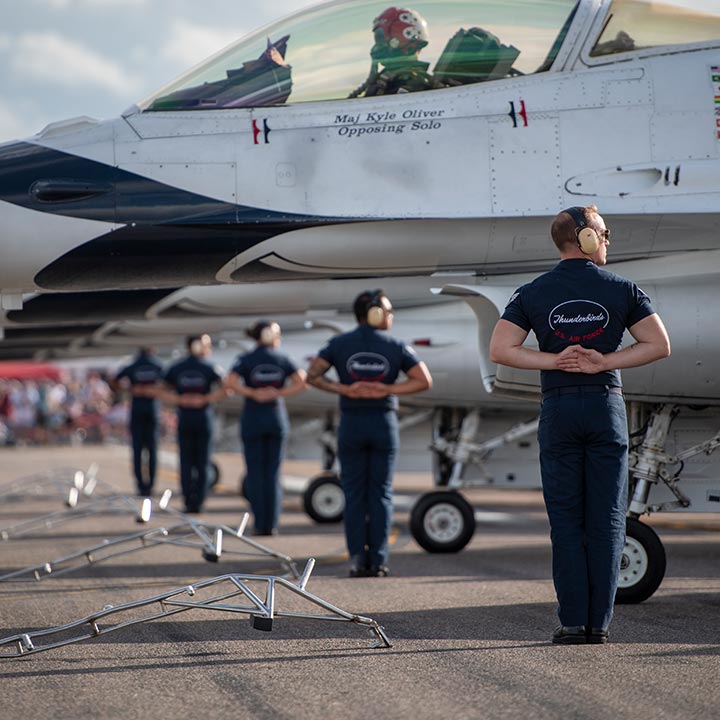 Thunderbirds
STAY INFORMED

Thunderbirds announce 2020 officer selections
NELLIS AIR FORCE BASE, Nev. – The commander of Air Combat Command, Gen. Mike Holmes, has officially selected the officers who will be joining the United States Air Force Thunderbirds for the 2020 demonstration season.
Maj. Trevor Aldridge, 493rd Fighter Squadron, Royal Air Force Lakenheath, United Kingdom, has been selected as Thunderbird No. 2, the team's Left Wing Pilot. He will fly as close as 3 feet from the No. 1 jet during flight formations, demonstrating the teamwork and precision of America's Air Force. Aldridge will replace Maj. Will Graeff.
Capt. Zane Taylor, 8th Fighter Squadron, Holloman Air Force Base, N.M., has been selected as Thunderbird No. 4, the team's Slot Pilot. He will fly just aft of the No. 1 jet and between the two wingmen. Taylor will replace Maj. Whit Collins.
Capt. Kyle Oliver, 27th Fighter Squadron, Joint Base Langley-Eustis, VA, has been selected as Thunderbird No. 6, the team's Opposing Solo Pilot. The solo pilots perform maneuvers that showcase the maximum capabilities of the F-16 aircraft. Capt. Michelle Curran, the current Opposing Solo Pilot, will transition to the Lead Solo position in 2020.
Maj. Kevin DiFalco, 31st Operational Support Squadron, Aviano Air Base, Italy, has been selected as Thunderbird No. 7, the team's operations officer. His duties will include air space coordination, ground communication with the pilots in the air and safety observation. DiFalco will replace Maj. Eric Gorney.
Capt. Katherine Moorkamp, Headquarters Air Combat Command, Joint Base LangleyEustis, VA, has been selected as Thunderbird No. 10, the team's executive officer. Her responsibilities will include leading an executive support staff responsible for Thunderbirds budget, training and force support actions for the commander. Moorkamp will replace Capt. Lauren Venturini.
Capt. Remoshay Nelson, 8th Fighter Wing, Kunsan Air Base, Republic of Korea, has been selected as Thunderbird No. 12, the team's public affairs officer. She will assume the team's extensive media relations, community relations and public relations programs. Nelson will replace Maj. Ray Geoffroy.
"This year's applicant pool featured some of the very finest Air Force leaders who showcased a remarkable level of skill and motivation. This was an incredibly difficult choice, but I'm confident we chose the right team to carry on the Thunderbird mission and showcase America's Air Force." Lt. Col. John Caldwell said.
The 12 officer positions on the team are two-year tours of duty. By design, the position openings are staggered, allowing the squadron to maintain continuity of experience and leadership. In 2021, Thunderbird Nos. 1, 3, 6, 8 and 11 will be replaced.
Imagery and video of the new Thunderbird officers can be found at the following link: https://www.dvidshub.net/unit/Thunderbirds.