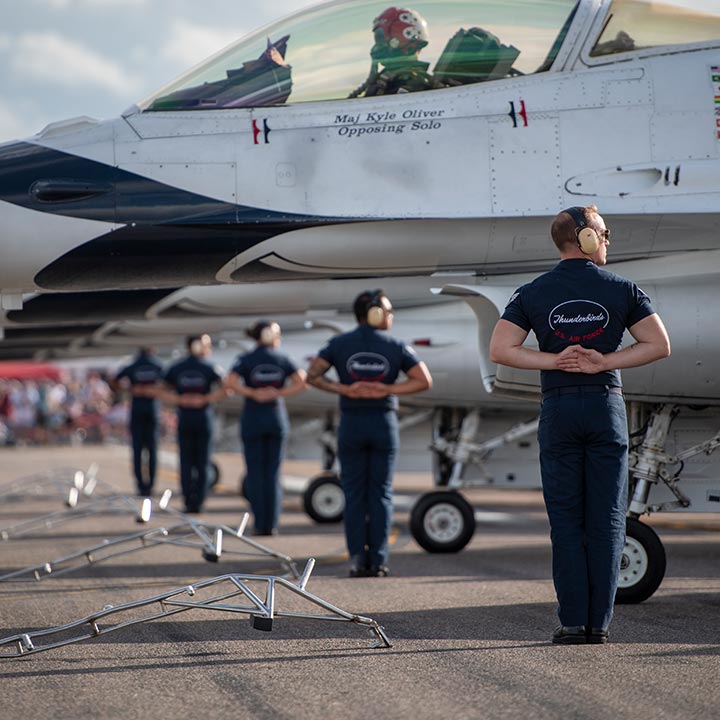 Thunderbirds
STAY INFORMED

Thunderbirds Announce Return to the Great Pacific Air Show
NELLIS AIR FORCE BASE, Nev. – The U.S. Air Force Air Demonstration Squadron, "Thunderbirds," will return to Huntington Beach this year to perform at the Great Pacific Air Show on October 4-6th, 2019.
The Thunderbirds will join some truly exceptional U.S. and allied military acts, including the Royal Air Force's Red Arrows, the Royal Canadian Air Force's Snowbirds, the U.S. Special Operations Command Para-Commandos, as well as the U.S. Air Force's F-35A Lighting II and A-10C Thunderbolt II Demonstration Teams.
Air show attendees are in for a rare and exciting showcase of some of the finest aerial demonstration teams in the world, as well as some of the most advanced and trusted combat aircraft that the U.S. Air Force employs in joint and coalition operations.
This late-season schedule change is a result of the cancellation of the Puerto Rico International Air Show by air show planners due to administrative approval issues.
When the Thunderbirds received word of this cancelation, the team reassessed its schedule and determined the Great Pacific Air Show to be a suitable fit for a short-notice appearance given its proximity to the Thunderbirds' home station and familiarity with the team's operational requirements.
For questions about the Thunderbird air show schedule, please contact the Thunderbirds Public Affairs office at (702) 652-7200 or email usaf.thunderbirds@us.af.mil.