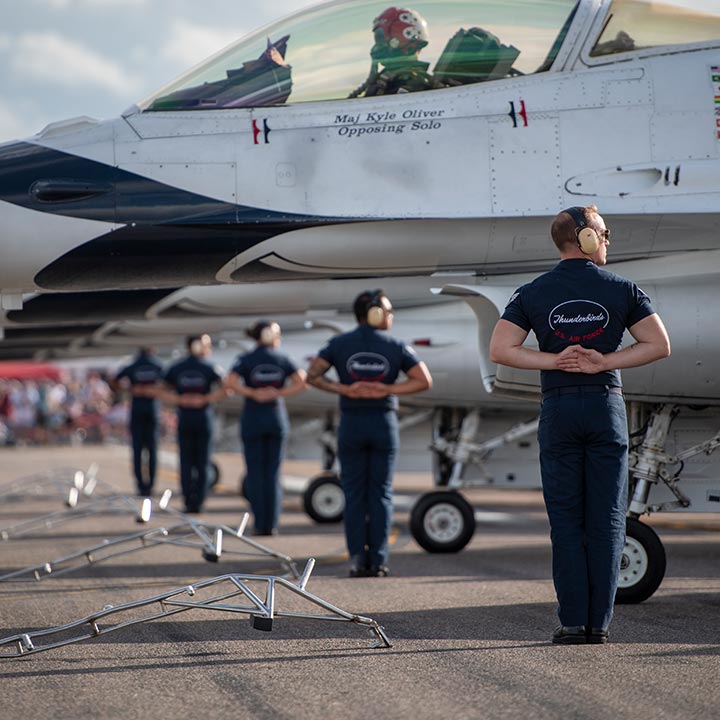 THUNDERBIRDS
STAY INFORMED

Thunderbirds announce 2022 officers
NELLIS AIR FORCE BASE, Nev. – The United States Air Force Air Demonstration Squadron "Thunderbirds" have officially announced the officers who will be joining the team for the 2022 demonstration season.
Capt. Lauren Schlichting, 4th Fighter Wing, Seymour Johnson, North Carolina, has been selected as Thunderbird 3, the team's Right Wing pilot. She will fly as close as 18 inches from the No. 1 jet during flight formations, demonstrating the teamwork and precision of America's Air Force. The current right wing pilot, Maj. Zane Taylor, will transition to Thunderbird 4, replacing Maj. Michael Brewer.
Capt. Daniel Katz, 510th Fighter Squadron, Aviano Air Base, Italy, has been selected as Thunderbird 6, the team's Opposing Solo pilot. The solo pilots perform maneuvers that showcase the maximum capabilities of the F-16 aircraft. Maj. Kyle Oliver, the current Opposing Solo pilot, will transition to the Lead Solo position in 2022, replacing Maj. Michelle Curran.
Capt. Jacob Impellizzeri, 79th Fighter Squadron, Shaw Air Force Base, South Carolina, has been selected as Thunderbird 8, the team's Advance Pilot and Narrator. The advance pilot coordinates air show operations and will act as the narrator during air shows. Impellizzeri will replace Maj. Jason Markzon.
Capt. Travis Grindstaff, 79th Fighter Squadron, Shaw Air Force Base, South Carolina, has been selected as Thunderbird 9, the team's Flight Surgeon. The flight surgeon oversees the health and well-being of the 130-person team, as well as their families. Grindstaff will be replacing Lt. Col. Noel Colls.
Capt. Robert Gulla, 723 Aircraft Maintenance Squadron, Moody Air Force Base, Georgia, has been selected as Thunderbird 11, the team's Maintenance Officer. The maintenance officer is responsible for overall aircraft maintenance for more than a dozen fighter jets. Gulla will replace Maj. Mike Bell.
 "This year's applicant pool featured some of the very finest Air Force leaders who showcased a remarkable level of skill and motivation. This was an incredibly difficult choice, but I'm confident we chose the right team to carry on the Thunderbird mission and showcase America's Air Force." Col. John Caldwell said.
The 12 officer positions on the team are two-year tours of duty. By design, the position openings are staggered, allowing the squadron to maintain continuity of experience and leadership.