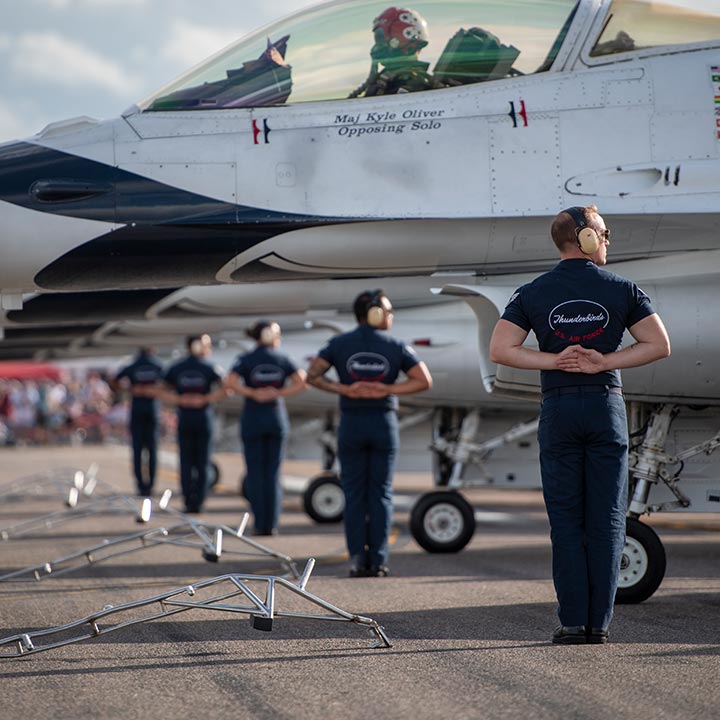 THUNDERBIRDS
STAY INFORMED

U.S. Air Force Thunderbirds to Honor Prior Commander/Leader over Phoenix
NELLIS AIR FORCE BASE, Nev. – The United States Air Force Air Demonstration Squadron "Thunderbirds" will perform a ceremonial flyover during the memorial services for U.S. Air Force Col. (ret.) Roger Parrish, at approximately 11:30 a.m. over Phoenix, Ariz., March 22, 2019.
The formation will feature four F-16 Fighting Falcons, the Air Force's premier multi-role fighter aircraft, soaring over the National Memorial Cemetery of Arizona.
Col. Parrish led a distinguished career as a U.S. Air Force fighter pilot from 1957 to 1983 including an assignment as the Thunderbirds' Commander/Leader from 1973 to 1974.
"It is a solemn honor to perform this flyover for our fallen Thunderbird brother," said Lt. Col. John Caldwell, the current Thunderbirds Commander/Leader. "The Thunderbirds wouldn't be the elite team they are today without Airmen like Col. Parrish leading the team to the highest levels of pride, precision and professionalism."
During his career, Col. Parrish flew numerous storied aircraft including the F-100 Super Saber, F-105 Thunderchief and F-4 Phantom.
In 1966, he attended the Air Force's Fighter Weapons School at Nellis Air Force Base where he earned trophies for both academics and gunnery, and was voted best student by his instructors.
In 1969 and 1970, he flew more than 100 combat missions over Vietnam, including a mission where he escorted a stricken F-4 back to base after the aircraft was badly damaged and the pilot seriously wounded by enemy fire.
"Col. Parrish's story reminds us that today's Airmen stand on the shoulders of incredible aviators," said Lt. Col. Caldwell. "This flyover commemorates his contributions to the rich heritage of our squadron and the Air Force."
Residents along the flight path can expect a few seconds of jet noise as the aircraft pass overhead, along with the sight of four high-performance fighter aircraft flying three feet from each other in precise formation.
For more on the team, go to airforce.com/thunderbirds or follow @afthunderbirds on Facebook, Twitter, and Instagram.
-30-
NOTE TO EDITORS:
Media interested in interviewing Col. Parrish's family can contact Mr. Billy Walker at cellphone: (480) 773-2823-or- email:Billy@CaptainBillyWalker.com